Air Freight Service
- Overnight, 2nd day, Economy
Freight, cargo and larger parcels can travel as Air Freight. Air Freight shipments can be scheduled and priced to meet three basic levels of transit.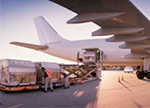 Standard Air Freight will normally travel for two days, Overnight Air Freight can usually be shipped to arrive on the next business day and Economy Air Freight will travel more slowly to maximize value.
The standard air freight shipment will generally take two days in transit between pick up, load priority and recovery combined with a routed delivery schedule. This affordable service offers speed, reliable transit time, tracking as well as control.
Overnight air freight shipments can be arranged to arrive very early in the day. They can often be pickup late in the day. The maximum load priorities available with this option allow for reliable and very rapid transit. When combined with special delivery or pick up services, transit times can be minimized.
Economy service provides the most affordable shipping and good transit times.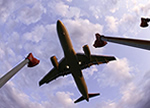 A careful combination of expedited surface and discounted bulk air cargo space allows the shipper to receive the maximum economy and yet control the shipment arrival time and handling.
Distances involved, weights and shipment priorities will determine the costs of shipping by air freight. Communication with a JOYCE EXPEDITING air freight shipping advisor will help establish the best transportation plan for your cargo.
Call Toll Free, 24 Hours a Day 1-800-569-2333