Hand Carried On-Board Service
- You most critical parcel will never leave our hands!
A designated courier will hand carry your parcel on board the aircraft to the ultimate destination.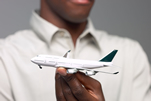 Pick up from your site or a location you designate at a time decided by you, transportation to the best airport for your shipment and hand delivery to your consignee could be performed by our team of professionals.
Tucked in a pocket or handcuffed to a wrist,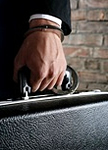 we will never let the parcel out of contact. On Board Hand Carried service can be arranged to any domestic location with little notice and subject to flight schedules and seat availability. Hand Carried Service to international destinations may require some additional documentation. If a flight is not available with a commercial carrier, we can arrange a charter to meet your needs.
Your most critical parcel will never leave our hands. Very special arrangements need to be made for this service. Please call 1-800-569-2333 to arrange the details.
Call Toll Free, 24 Hours a Day 1-800-569-2333